Product advantages of halogen products drying line
14-10-2019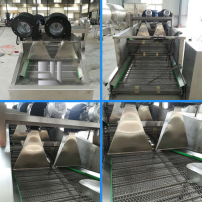 Product advantages
1. The halogen product drying line is made of high quality stainless steel material, and the stainless steel is treated with mirror or matt.
2. With automatic turning function in the belt conveyor, the air cooling effect is good.
3. While working, the side mesh is cleaned and high temperature sterilized.
4. The mesh belt speed is adjusted according to the air cooling effect, and the motor adopts frequency conversion speed regulation or mechanical speed regulation, etc.
5. Fan airflow can be adjusted to cover the entire mesh belt surface
6. Smooth operation, low noise, durable, stable performance
7. According to different requirements of customers, the length and number of fans can be customized.
8. Widely used in food, beverage, pharmaceutical and other industries
+The machine is mainly used for drying the surface of soft packaging. It is suitable for boiled vegetables, seasonings, sauces, braised meat, halogen eggs and other foods that are packaged in plastic. After high temperature (low temperature) sterilization and cooling, the machine will be used. The surface of the bag is dried and dried for quick packing. The machine uses a low-power, low-noise fan, the blower is knife-shaped, and the blown air temperature is normal temperature, which effectively protects the color and quality of the material itself, and the effect is better. . This machine has a wide range of applications, high drying efficiency and easy operation.
Zhucheng Yufeng Machinery provides users with complete processing equipment.